On a 70 city tour, Amy Goodman of Democracy Now! stopped by Ohio University to speak about the swarth of American protests that are currently underway calling from President Obama to rethink his currently economic policies, currently manifest in his cabinet level economic team lead by Timothy Geithner.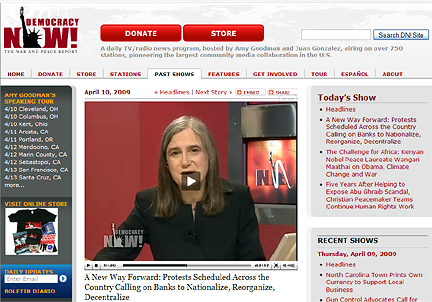 - click image to watch video -
A New Way Forward: Protests Scheduled Across the Country Calling on Banks to Nationalize, Reorganize, Decentralize

Democracy Now! - National demonstrations are scheduled in more than fifty cities across the country tomorrow to protest the government's handling of the economic crisis. The demonstrations are organized by the recently launched group A New Way Forward. They are calling on the government to take three main actions on the country's banks: nationalize, reorganize and decentralize. Visit Democracy Now!